A word with… Calum Bowie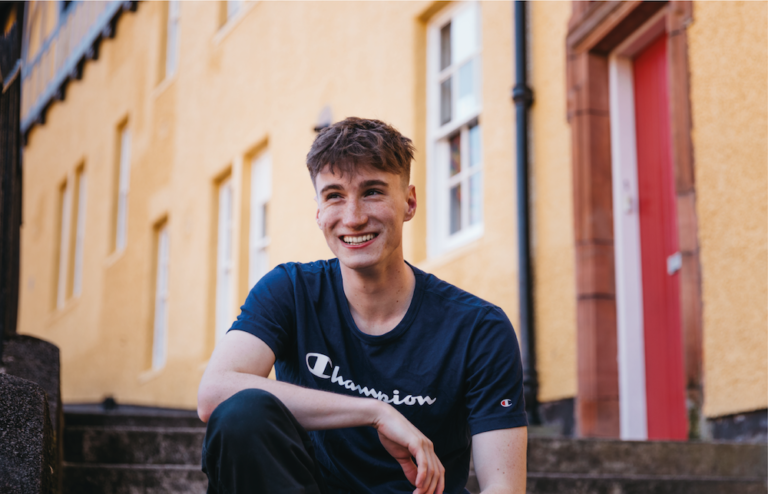 Give us a brief intro – where did you grow up, when did you decide you wanted to become a singer/songwriter?
Hi, I'm Calum Bowie, a singer-songwriter based in Edinburgh. Although I'm originally from a town called Banchory, near Aberdeen. I always grew up around music because my dad constantly had tunes blaring around the house, so it was something I was into from a very young age. I first picked up a guitar when I was about eight. It was my dad's horrendous electric guitar (the brand was literally called Electric Guitar) and I learned a couple of three chord songs. After a while my dad told me that if I could play Breakfast at Tiffany's, then he would buy me my own guitar. So, I spent a few weeks perfecting that song before I was gifted my own electric guitar. I've been writing songs (albeit not amazing ones) since I was about 12 and only really started taking my music more seriously when I was around 15/16. I released my first song when I was 15 and that's when I knew that I wanted to pursue music.
What's your favourite and least favourite food? Any fun facts?
I must admit that I'm not fussy in the slightest when it comes to food. I'll eat anything and everything so my favourites change all the time, but you can never go wrong with some fajitas. I'd struggle to pick my least favourite food to be honest, I feel like living as a student has very much knocked the pickiness out of me. A fact not many people know is that I actually used to juggle quite a bit when I was younger and joined the University juggling club for a short period of time!
You're currently studying in Edinburgh, can you tell us a bit about your course?
I've been living in Edinburgh for nearly 3 years now. I actually started off studying Civil Engineering at The University of Edinburgh. However, I changed this year to Music Business at Edinburgh College, as it was more fitting to what I do in my spare time. The course is fantastic and it's been very useful to understand a lot more of what goes on in the music world, not just from a musician's perspective.
How do you find Edinburgh, musically and generally? Have you had any funny chats or heckles when filming out your window?
Edinburgh is amazing. I love playing live here. I get a few regulars that live nearby that always stop for a quick chat and some that just happen to be passing and say some funny things. For instance, a few weeks ago an Irish lad stopped by and threw a euro in my window. He was some laugh! It's always quite awkward making direct eye contact with someone on the top row of the bus if they're looking, I never really know whether to keep singing or wait until the traffic lights turn green.
You've gained a massive amount of followers on TikTok in just over a year, how does that feel? Are your notifications on/off?
I absolutely love what I do on TikTok, it's always the highlight of my day. I really enjoy the process of listening to a song and trying to figure out the chords to use and how I'm going to sing it. The growth recently has been super surreal and I'm so grateful to everyone supporting my music and my videos. My notifications are on and I love going through the comments on my videos and speaking to everyone!
Do you ever feel an element of pressure to upload content to your socials?
I feel like there's always an element of pressure to post but I also don't let that weigh me down too much or it would take a bit of the fun away from it. With TikTok and Instagram especially, I feel consistency is very important for the algorithm, so I tend to make sure I have enough content ahead of time so I can relax when making new videos/ content without a post deadline looming over me.
Did you take advantage of lockdown, and use the time to focus on your writing / recording? Do you think the lockdowns had an impact on your music? Or an impact on you mentally?
Lockdown for me was when the music really started moving. It gave me time to focus heavily on writing and recording videos for social media. My sister also tipped me off to a 'new' app called TikTok, saying that I should post my music snippets on there instead of Instagram which is when the ball really started rolling. I feel like lockdown showed me what I really wanted to do in the future, which is to continue pursuing music.
How would you describe your songwriting / recording processes? Do you write a lot of the instrumentation before recording, or do you develop the layers during the recording process?
I always start each song with a hook on my guitar, which can either come very quickly or take ages. Once I have a riff, I start to hum over the top, to create the lyrics melody before adding words. After I know how I want the melody to sound, I start to add words here and there that sound nice in my head, which I later piece together into full lyrics, following the story I had intended to write about. Once I have the song, I'll make sure I'm happy with it for a period of time before recording it and working with different producers to add a fuller instrumentation.
Your single "Call Me Back" has gone down very well. When did you first come up with the idea for this track, and what was the writing process?
I actually worked with a super talented friend and songwriter Dexter Fawcett in coming up with Call Me Back! This was the first time I'd ever written with anyone else so I was unsure how it was going to go but was absolutely delighted with the song that came out of it. Dexter had a few suggested progressions on the keyboard and I loved how they sounded so we started to build a melody and map out each section of the song from that. It came together surprisingly fast and we both knew the story we were trying to tell. I think the original intention was for a more slowed down ballad but it progressed into more of a fast paced pop song, which will be great fun to play live.
Are there any other artists that you would like to collaborate with?
At the minute I'm very much enjoying being solo but I'd love to work with some writers on making some new music such as Plested and Rob Milton!
Who are your main musical influences?
I've always listened to an array of different music and I'd say my influences have evolved over time. When I was younger my favourite band was AC/DC and I loved the likes of Iron Maiden and Big Country, which probably came from my dad, as he always had those bands on in the house. I then got really into Oasis and recently I've been rating artists like Sam Fender, Holly Humberstone and KAWALA.
Do you have a favourite or most memorable moment you could share with us?
I'd say by far my most memorable moment has got to be my first ever Edinburgh headline show which was at Legends at the end of last year. I'd played a few shows before then but never anything as crazy as that. That's the first time I'd really had any of my songs sang back to me, which was the craziest feeling.
Any new artist we should be listening out for?
There's a lot of exciting new music that I've been enjoying recently from artists like Oliver Keane, Phoebe Hall and Dan Fable. I also recently saw KAWALA, who are a lot more well known, at a record signing in Edinburgh. I thought that they had such a unique sound with some super catchy tunes.
What are your plans / hopes for the future?
I'd love to be in the position where I can keep writing and performing music as a full-time profession. It's always been a pipe dream to travel across the world performing so it'd be insane to make that dream into a reality. I have a new single on its way at the end of April, called 'Listen To Your City' which I'm beyond buzzing about, followed by some seriously exciting projects in the coming months!
To listen to Calum Bowie or find out more here's some links:
Pre-Save 'Listen To Your City'
Listen to 'Call Me Back' on DSPs
TikTok
Instagram
Facebook
If you're new to EmuBands, or you're with another distributor, and would like to learn more about us – click here.
Back to All News