Spotify Adds New Playlist Pitching Feature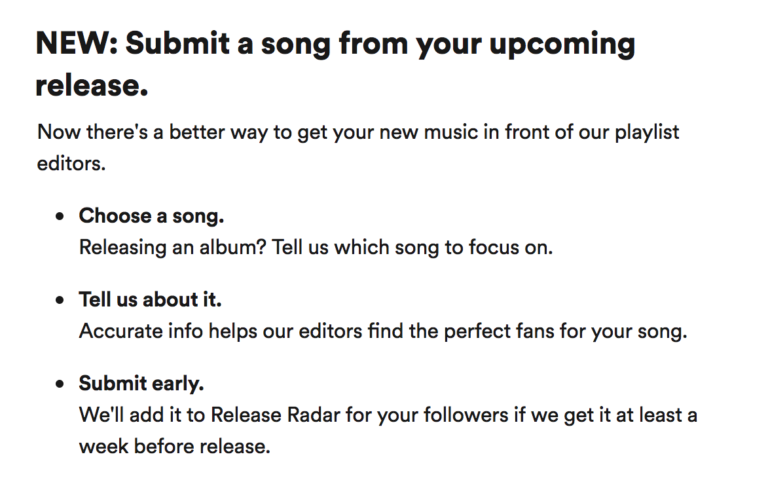 Interested in How to Get on Spotify Playlists? Read on.
Spotify has added a new feature to Spotify for Artists, which allows their artist & label community to submit unreleased songs to be considered for inclusion in playlists, by their in-house team of editorial staff.
The feature, which has launched today in beta, is included in both the Spotify for Artists, and Spotify Analytics toolsets. Anyone with access to these services will be able to choose one unreleased song from a release to submit.
To submit a song for consideration follow these simple steps:
1. Log in to Spotify for Artists on desktop (it is not currently possible to use the Spotify for Artists mobile apps to submit songs).
2. Find your unreleased music at the top of the 'Home' or 'Profile' tabs.
3. Select 'GET STARTED' next to to the release, or go to 'Profile', then right-click any unreleased music, and select 'Submit a Song'.
4. Choose a song from the release to submit.
5. Fill out as much information as possible – the more information Spotify receive, the better chance the music has of being considered.
Before you get started, there are some things you must keep in mind. A major thing to bear in mind is that as your distributor, we must deliver your release more than 1 week in advance of your release date, to ensure you have enough time to pitch to the editorial teams. You can read the full list on Spotify's own website here.
We've helped thousands of artists get music on Spotify, for a simple, one-off fee per release.
For more information on our prices, and to get started, click here. Just make sure you opt-in to the Spotify contract when you add your release to your EmuBands account.
Back to All News