XpoNorth 2019: Advice Sessions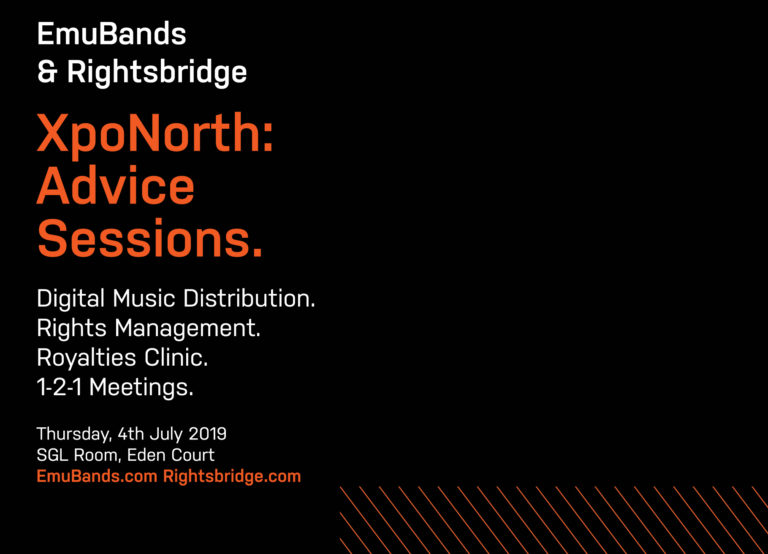 EmuBands & Rightsbridge will be co-hosting a series of panels & presentations at this year's XpoNorth, Scotland's leading Creative Industries Festival.
We'll be taking over the SGL Room at Eden Court in Inverness, on Thursday 4th July 2019.
Although presented by EmuBands and Rightsbridge, these sessions are open to anyone regardless of industry role and are designed to help customers and non-customers alike.
Schedule
10:00 – 10:30: Breakfast
10:30 – 11:15: Intro to Digital Distribution & Rights Management
Join EmuBands and Rightsbridge for an introductory session on their roles within the wider industry structure, which of your copyrights they represent and how they help you monetise them.
11:45 – 12:30: Beyond DIY: Building Your Team
Understanding the value of building the right team for your campaign – what help you do need and from whom?
13:00 – 13:45: Maximising Your Potential On Spotify
Essential information for artists, managers and their teams – covering tips and tricks on Profile Management, Playlisting and more.
14:15 – 15:00: DIY Marketing Toolbox
Simple, effective tools for independent artists & labels to market their releases. Covering best practices for digital campaigns, including
utilising SmartURLs, Pre-Orders & Pre-Saves, as well as pitching to blogs, press & radio.
15:30 – 16:15: Where's My Money?
Track your royalties as they flow through the ecosystem, from music user to music maker via various intermediaries. Learn how to avoid the common pitfalls that can slow things down.
1-2-1 Meetings / Royalties Clinic:
Pre-book a slot at our Royalties Clinic to discuss anything you wanted to know about about music royalties but were too afraid to ask, or one of our Distribution and Rights Management one-to-one slots for help with anything relating to copyrights and releasing music. Book here: emubands.com/xpobookings
If you have any questions, please get in touch and we'll be happy to help.
Back to All News