Reach More Fans with Spotify's AI DJ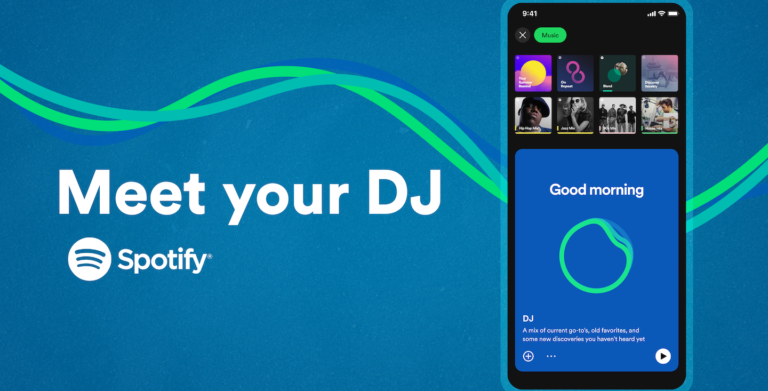 As a self-releasing artist, you are constantly on the lookout for new ways to promote your music and grow your fanbase. With the recent introduction of Spotify's AI-powered DJ feature, there's a new opportunity for independent artists to reach new fans.
The AI-powered DJ feature delivers a personalized listening experience to users, curating music and commentary based on their preferences. This means that users are more likely to discover new artists who they will genuinely enjoy listening to, rather than simply stumbling across random tracks. As an independent artist, this personalization aspect is crucial for gaining exposure to new fans who will appreciate your music. By leveraging the power of AI to deliver your music to users who are more likely to enjoy it, you can build a loyal following of fans who will continue to support your music in the future. Think about a mix of Spotify Radio, and playlists like Discover Weekly, or Release Radar, with an added interactive benefit.
While the DJ feature is currently only available to Spotify Premium users in the U.S. and Canada, there's great potential for it to expand to other markets in the future. This means that independent artists using EmuBands for music distribution can gain exposure to new markets and audiences they may not have reached otherwise.
EmuBands is the perfect partner for independent artists looking to get their music onto Spotify. As a Spotify preferred provider, we have the experience and expertise needed to help artists take advantage of all the tools and features that Spotify has to offer.
One of the key benefits of working with EmuBands is that we make the process of getting your music onto Spotify incredibly easy. We handle all the technical details, so you can focus on creating great music. And with our simple one-time fee per release, you can be sure that you're getting the best possible value for your money.
Every artist using EmuBands also gets instant access to Spotify for Artists. This powerful tool gives you valuable insights into your streaming performance, including data on who's listening to your music, where they're located, and more. With this information, you can make informed decisions about how to promote your music and grow your fanbase.
As well as offering a low-cost solution to distribute your music, we also provide a host of additional services. These include advanced royalty reporting widgets, automated payment splitting, and DSP Playlist Pitching.
—
About EmuBands
Formed in 2005, EmuBands is the trusted partner of thousands of artists, labels and managers across the world. With supercharged release features and expert support, we provide a low-cost solution to distribute your music, allowing you to retain control of your copyright and keep 100% of your royalties. Review our Pricing, Services, and Sign-Up today.
Back to All News