There's lots of good tools at your disposal to set up a pre-save on Spotify, but we like to use SmartURL.
SmartURL is a tool which allows you to create different geo-redirect links for music & more.
It is completely free, although some features are restricted to registered users only (registration is free!).
SmartURL have a tool called 'Pivot', which will allow you to put all of your URL links into one landing page, such as Apple Music/Amazon/Deezer/Spotify/YouTube etc, and your fans can then choose their favourite service and be redirected to it.
If you're looking to only set up a pre-save, there is a specific 'Pre-Save' tool. This is open to registered users. To set up a pre-save on Spotify you'll need the URI of your release. We'll send the URI to you via email as soon as we get it from Spotify.
Let's take a look at a step-by-step process. We're going to set up a pre-save on Spotify for The 101's single, 'First & Last'.
2. Log-in, or register for an account.
4. Select the 'Pre-Save' option: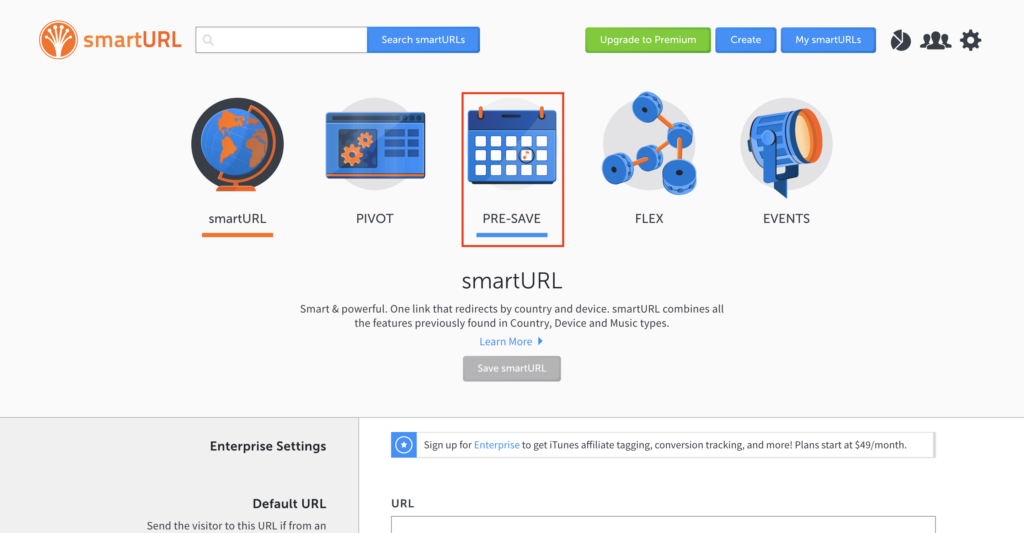 5. Scroll down, and you'll see an option to "Configure Spotify Pre-Save". You'll want to search for your artist page in the 'Artist Name (Followers)' field: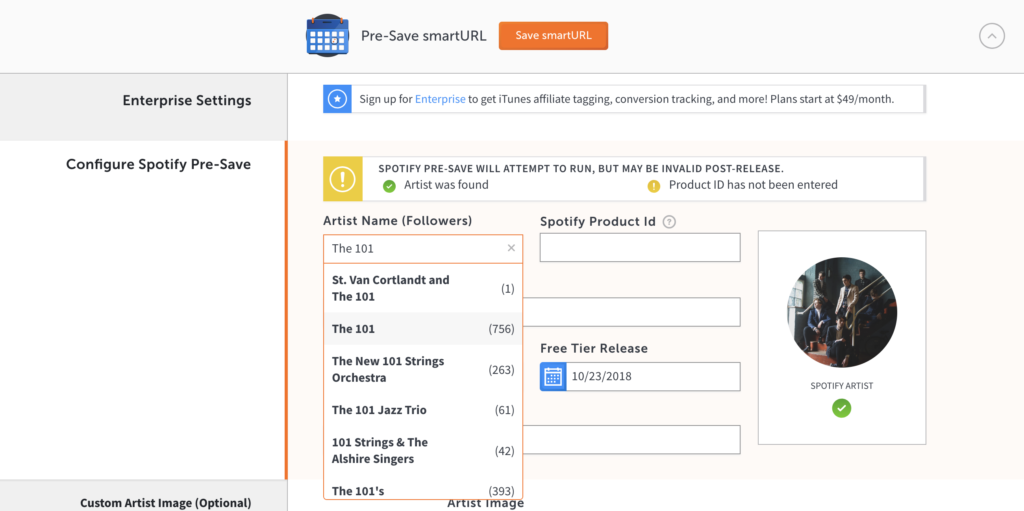 Can't find your artist name when you enter the name? Try entering the URI for the artist page (How do I get my Spotify Artist or Album URI?)
Note if searching by URI: you need to remove the 'spotify:artist:' text from the start of the URI, before you enter it in the 'Artist Name (Followers)' field. So, for example: 'spotify:artist:37sYnkZf4xFyEcw4v6DHTu' becomes '37sYnkZf4xFyEcw4v6DHTu'.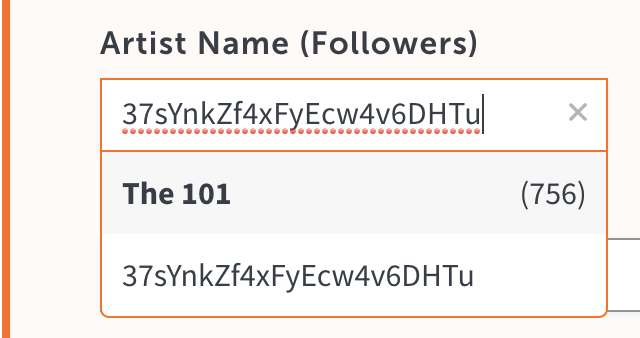 6. In the 'Spotify Product Id' field, paste the full URI for your release. Then, fill out the Product Name field:
As mentioned above, EmuBands will send an email out to you containing your Spotify release URI as soon as we have it. Learn more about processing times for Spotify here – How Long Does It Take?

You'll notice in the above image, we're receiving an error message – "Product does not exist in Spotify yet". To resolve this, simply update the 'Product Release Date', and 'Free Tier Release' to your release date.
You'll then see this message change from "Product does not exist in Spotify yet" to "Pre-Add will not run until the given release date". This means the the product will be added to your fan's Spotify library on that date, if they've clicked to Pre-save it before then: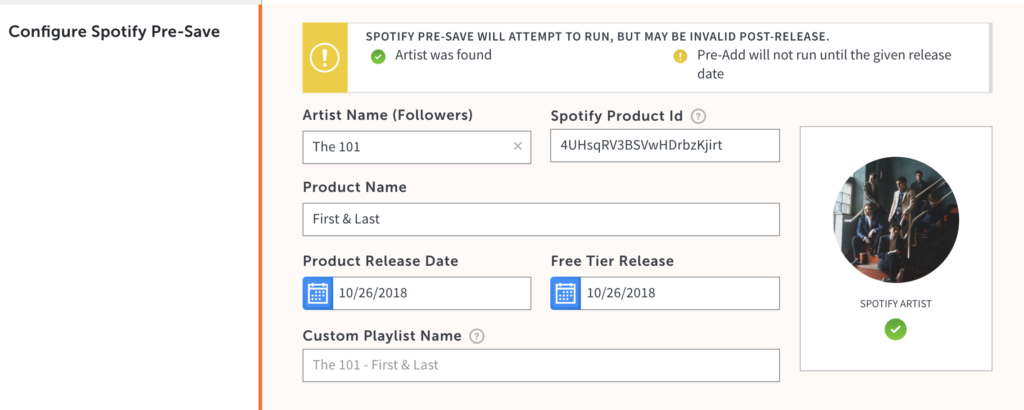 7. You can now customise how the landing page will look, by scrolling down the page:
Most of the options here are quite self-explanatory. In this example above, We've opted only to supply the release artwork.
The 101 already have a banner image, that they uploaded to Spotify via Spotify for Artists, so we don't need to supply another one. Scrolling further down, you can add social media links, and make final adjustments to how the landing page will look: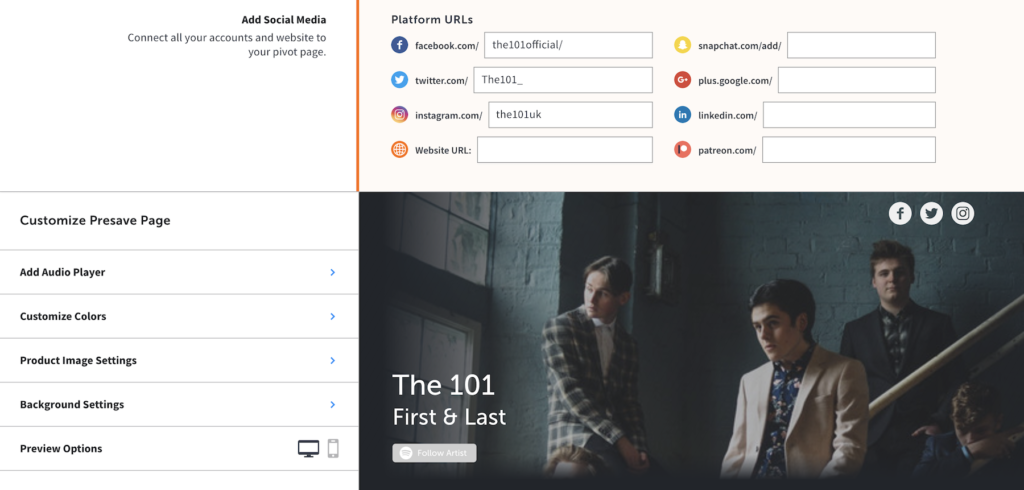 8. Set up an alias for the SmartURL.
Once you're happy with how the landing page looks, scroll down until you see the 'Organize' section, and create a custom alias for the SmartURL:

9. Scroll to the bottom of the page, and click 'Save SmartURL'.
You have now set up a pre-save on Spotify, and have a fully functioning Pre-save link: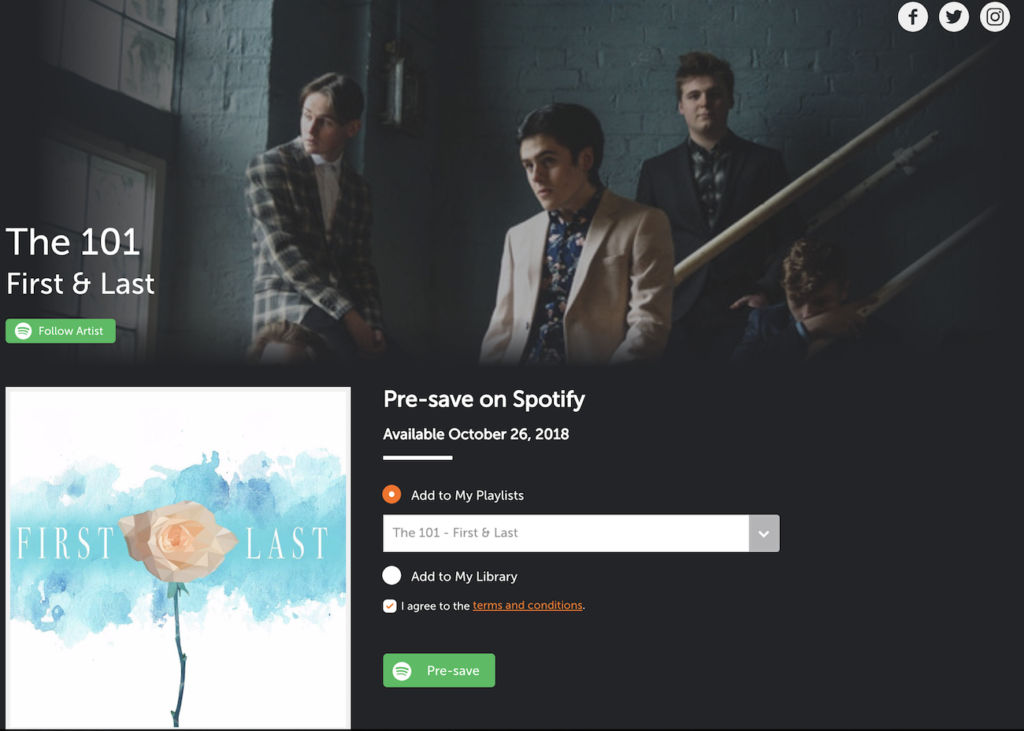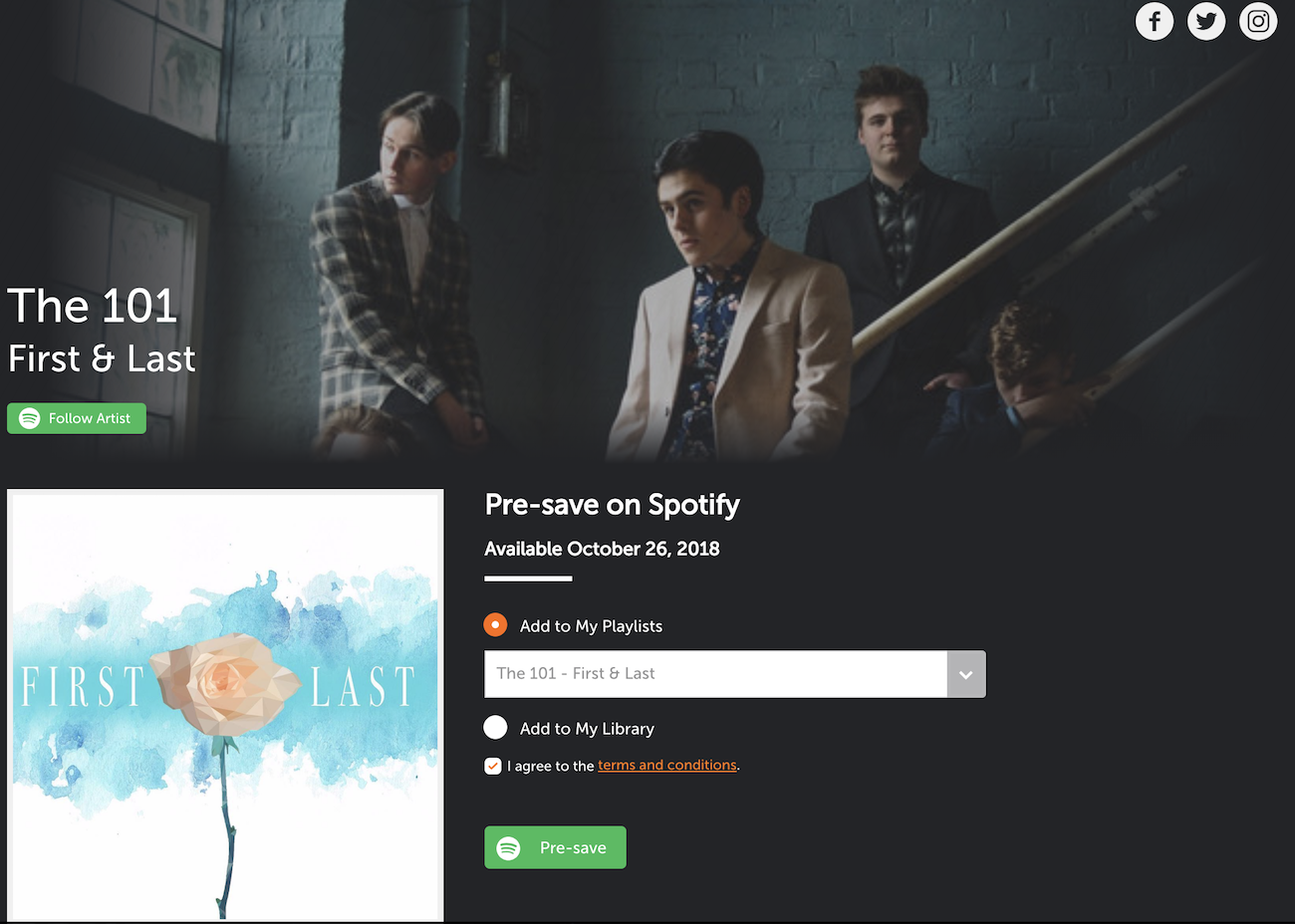 Encourage your fans to pre-save your new Spotify release to their libraries, so they can be the first to hear the release when it goes live.
Pre-saves are a great way to create a buzz around your release, not to mention increase your Spotify follower-count, which is hugely important for algorithmic playlists, like Discover Weekly, and Release Radar.
If you liked this guide, we would recommend: How Do I Make the Most of Spotify?
To learn more about Spotify for Artists, pitching for inclusion on Spotify playlists, and other Spotify-related features, visit our Spotify knowledge-base.
If you're not currently using EmuBands for distribution, and you'd like to work with a distributor who gives you instant access to Spotify for Artists, and other great features, with no annual fees – click here join us today.
If you would like to move to EmuBands from another distributor, read our guide on how to do this, whilst keeping your play-counts: Can I Switch To EmuBands from Another Distributor?